Bahal Lab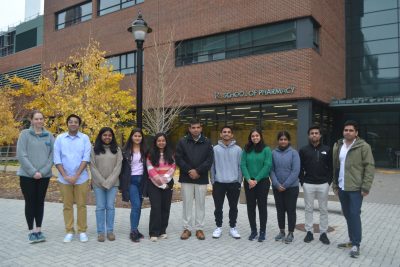 From left to right: Brooke, Aniket, Clerin, Ruchi, Angana, Dr. Bahal, Vishal, Sai Pallavi, Mounika, Suraj and Vikas
Dr. Raman Bahal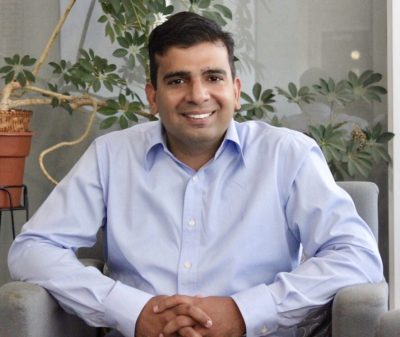 Dr. Raman Bahal was born and raised in India. He received his B.S. in Pharmaceutical Sciences at Punjabi University, Patiala; his Master's Degree in Medicinal Chemistry from the National Institute of Pharmaceutical Sciences and Drug Research, Mohali; and his Ph.D. in Nucleic Acid Chemistry from Carnegie Mellon University under the supervision of Professor Danith H. Ly.
During his Ph.D. studies, Dr. Bahal focused on the optimization of new generation gamma Peptide Nucleic Acids as an effective tool for gene regulation and went on to demonstrate that genomic DNA can be targeted in a sequence unrestricted manner using new generation gPNAs.
Dr. Bahal did his postdoctoral training in the laboratory of Dr. Peter M. Glazer at Yale University. He independently established a PNA synthesis facility in the Glazer lab and showed how nanoparticle delivered gPNAs can be used as antisense and gene editing agents.
Dr. Bahal joined the Department of Pharmaceutical Sciences at the University of Connecticut as an Assistant Professor in August 2017.
Post-Doctoral Fellow
| | |
| --- | --- |
| Dr. Vikas Kumar | Dr. Vikas Kumar is a postdoctoral research associate at Dr. Bahal's lab. He has completed his PhD under the supervision of Dr. Ram A Vishwakarma from CSIR-Indian Institute of Integrative Medicine-Jammu, India. His research at the interface of drug discovery and drug development primarily accounts for the physicochemical characterization and pharmaceutical development of small molecular and phytopharmaceutical drugs. At Dr. Bahal's lab, he is working on antigene/antisense therapy and nano-carrier development for targeted delivery of therapeutic agents. Aside from research, he loves listening to music, playing badminton and running. |
Graduate Students
Aniket Wahane

Aniket Wahane is a Ph.D. candidate in Dr.Bahal's lab. He completed his Bachelor's of Technology in Pharmaceutical Sciences from Institute of Chemical Technology, Mumbai, India and his Master's of Science in Pharmaceutical Sciences from Northeastern University, Boston. At Dr.Bahal's lab, Aniket is investigating anti-sense therapy for the treatment of cancer using nanotechnology. Apart from research, he is passionate about music, soccer and computer games.

Vishal Kasina

Vishal Kasina is a Ph.D. student in Dr. Bahal's Lab. He completed his Bachelor's of Science in Biology with Honors from Temple University in Philadelphia, Pennsylvania. In Dr. Bahal's lab, Vishal will be researching nano-formulations targeting different cancers. Outside research, he enjoys playing tennis, working out, and traveling.

Sai Pallavi Pradeep

Sai Pallavi Pradeep is a Ph.D. student in Dr. Bahal's lab. She completed her Bachelor's of Science in Microbiology from Bangalore University, Bangalore, India and her Master's of Science from Vellore Institute of Technology, Vellore, India. At Dr. Bahal's lab, Sai is working on mRNA delivery and antisense projects for treating diverse genetic diseases as well as cancer. Apart from research, she is passionate about dance, swimming and hiking.

Mounika Pathuri

Mounika Pathuri is a first year Ph.D. student in Dr. Bahal's lab. She completed her Bachelor's of Pharmacy from a college affiliated to Jawaharlal Nehru Technological University, Hyderabad, India and her Master's of Pharmacy in Pharmaceutics from RBVRR Women's college of Pharmacy, Osmania University, Hyderabad, India. Apart from research, she is passionate about watching movies.

Angana De

Angana De is a first year Ph.D. student in Dr. Bahal's lab. She completed her Bachelor of Pharmacy from a college affiliated with Maulana Abul Kalam Azad University of Technology, West Bengal, India, and her Master of Pharmacy in Industrial Pharmacy from Manipal College of Pharmaceutical Sciences, Manipal, India. Apart from research, she is passionate about drawing, traveling, and swimming.

Ruchi

Ruchi is a first year Ph.D. student in Dr. Bahal's lab. She completed her  Bachelor's degree in Pharmacy from Delhi Pharmaceutical Science and Research University (DPSRU) and her Master's degree from National Institute of Pharmaceutical Education and Research (NIPER). Beyond her academic pursuits, she enjoys reading books and hiking.

Undergraduate Students

Suraj Kalaria

Suraj Kalaria is a sophomore undergraduate student majoring in Molecular and Cell Biology. At the Bahal lab, Suraj will be exploring the use of naturally derived small molecules for gene editing and cancer therapy.

Pranjali Kulkarni

Pranjali Kulkarni is a senior undergraduate and a second-year pharmacy student in the Bahal Lab.

Brooke DiVasto

Brooke DiVasto is a sophomore undergraduate majoring in physiology and neurobiology. At Dr Bahal's lab, Brooke will be investigating antigene therapies for cancer treatment.

Nitya Somineni

Nitya Somineni is a sophomore undergraduate student majoring in Molecular and Cell Biology.

Alumni

Graduate Students

Dr. Shipra Malik (currently at Verve Therapeutics)
Dr. Karishma Dhuri (currently at AbbVie Inc.)

Undergraduate Students

Daniela Barisano
Jason Shi
Elizabeth Abraham
Brenda Asmara
Suneri Amin
Zoe Moscato
Kevin Kao
Erin Garrison
Clara Bechtold
Chaohao Chen